Accounting.com is an advertising-supported site. Featured or trusted partner programs and all school search, finder, or match results are for schools that compensate us. This compensation does not influence our school rankings, resource guides, or other editorially-independent information published on this site.
Are you ready to discover your college program?
Credit: d3sign / Moment / Getty Images
The Graduate Management Admissions Test (GMAT) assesses qualitative, verbal, analytical, and writing skills for students seeking admission to more than 7,000 graduate programs in business at 2,300 schools in countries across the globe. The Graduate Management Admissions Council (GMAC) develops and administers the test at hundreds of sites around the world. Prospective students seeking admission to programs such as the MBA or the master's in accounting (MAcc) typically need to take the GMAT. A few online MAcc programs require no GMAT, but these are rare. The weight of a GMAT score for admissions varies by school. Applicants should recognize that the GMAT is the only piece of the application that is truly objective and therefore is often a high-ranking factor in admission committees' decisions.
The exam measures a test taker's skills in reasoning, critical thinking, analysis, and making complex judgments. To perform this evaluation, the test includes four sections: analytical writing assessment, integrated reasoning, quantitative, and verbal. The analytical writing section includes a single essay question. Other sections are composed of two-part analysis questions, graphic interpretation, data sufficiency, problem solving, reading comprehension, and more.
Do You Need To Take the GMAT for Accounting Master's Programs?
Applicants to MAcc programs typically need to submit scores from either the GRE or the GMAT. A few schools rely only on grades, experience, and essays to make their decisions and offer a MAcc without the GMAT. However, in most cases financial aid and assistantship options rely in part on standardized test scores. Accounting students should check with their individual schools to determine if they require GMAT scores. Some MS in accounting degrees require no GMAT.
What Does the GMAT Look Like?
The Structure of the GMAT
The GMAT consists of four sections: analytical writing assessment, integrated reasoning, quantitative, and verbal. The analytical writing assessment requires students to craft an essay. The integrated reasoning section includes two-part analysis, multi-source reasoning, graphic interpretation, and table analysis. In the quantitative section, test takers answer questions about data sufficiency and problem solving. The verbal section is composed of reading comprehension, critical reasoning, and sentence correction questions. Immediately before starting the test at the exam center, examinees can choose the order in which to take the four sections. Prior to arriving at the testing center, test takers should decide on the order that makes them feel most comfortable and confident.
Test takers may encounter experimental questions on the GMAT. These questions do not count toward the examinee's section score or total score. Up to 25% of questions may be experimental; the test makers include experimental questions to help them develop new versions of the test. Each section of the GMAT is timed, and the entire exam takes about three hours and 30 minutes including two eight-minute breaks.
| Section | Number of Questions | Question Format | Time to Complete |
| --- | --- | --- | --- |
| Analytical Writing Assessment (AWA) | 1 | Essay | 30 minutes |
| Integrated Reasoning | 12 | Two-part analysis, multi-source reasoning, graphic interpretation, and table analysis | 30 minutes |
| Quantitative | 31 | Data sufficiency and problem solving | 62 minutes |
| Verbal | 36 | Reading comprehension, critical reasoning, and sentence correction | 65 minutes |
Delivery Format
Examinees can take the GMAT at Pearson VUE testing centers in more than 100 countries around the world. Pearson VUE centers are independent testing sites that administer many standardized tests. The GMAT's website allows students to search by zip code for the center nearest them. The GMAT is only available via computer to assure fairness and consistency between exams. It is also an item-adaptive test, meaning the computer determines the difficulty of an examinee's questions based on previous performance. This means that by answering a difficult question correctly, a test taker receives another more challenging question. The multiple choice questions appear one at a time so a test taker can neither return to a question already answered nor skip a question. This approach means the GMAT has fewer questions, updates the score based on all answers, and helps individualize the test, thus providing security for the exam.
The Analytical Writing Assessment (AWA) Section
Skill Areas
In the AWA section of the GMAT, test takers demonstrate their critical-thinking skills by finding an argument's strengths and weaknesses. To do so, they must organize their thoughts, communicate their ideas clearly, and evaluate an argument rigorously. These essays should contain specific examples that support the writer's argument.
Question Types
The analytical writing assessment section contains only one question, and test takers respond to an argument presented. They do not give their opinion about the argument. Instead, they critique the argument by evaluating its logic. A high-scoring essay contains fully developed ideas arranged logically and supported with specific examples. Test takers have 30 minutes to complete this section, and there is no minimum or maximum word count.
The following appeared in the editorial section of a monthly business news magazine: "Most companies would agree that as the risk of physical injury occurring on the job increases, the wages paid to employees should also increase. Hence it makes financial sense for employers to make the workplace safer: they could thus reduce their payroll expenses and save money." Discuss how well reasoned you find this argument. In your discussion be sure to analyze the line of reasoning and the use of evidence in the argument. For example, you may need to consider what questionable assumptions underlie the thinking and what alternative explanations or counterexamples might weaken the conclusion. You can also discuss what sort of evidence would strengthen or refute the argument, what changes in the argument would make it more logically sound, and what, if anything, would help you better evaluate its conclusion.
Common Pitfalls and How to Avoid Them
The GMAT prompts contain logical fallacies that examinees need to identify in their essays. Test takers can fail to point out logical fallacies in their analyses simply because they do not recognize these flaws in reasoning. To avoid this pitfall, study major logical fallacies such as the straw man, non sequitur, circular arguments, and ad hominem. Many students also fail to catch errors in grammar, spelling, or syntax. Brush up on your writing skills before the test, and be sure to proofread your essay before submitting it.
Helpful Tips
Plan Your Essay: To avoid submitting a poorly organized piece, use your scratch pad to order your thoughts and evaluate your argument before you begin typing your full answer.
Use Specific Examples: Examples bolster your argument, and GMAT graders look for specific examples in your text. The more specific your examples, the better support they provide.
Study with a Tutor: Prepare for the test by working with an experienced GMAT tutor or writing tutor.
Read Sample Essays: Find examples of GMAT essays on the internet and read and evaluate the ones that received the highest scores to determine what elements go into creating an astute essay.
The Integrated Reasoning Section
Skill Areas
The integrated reasoning section evaluates test takers' ability to organize information, make judgements based on data, and combine, manipulate, and synthesize information. In this section, examinees show their ability to see patterns amidst excess amounts of data — an important skill for both business school and corporate careers.
Question Types
The GMAT's integrated reasoning section includes four types of questions. The first type requires test takers to use graphics, text, and numbers to synthesize information. The second requires reviewing and evaluating information from various sources. For the third type of question, examinees solve multiple problems by determining relationships in information. The final question type requires test takers to solve complex problems using information from many sources. Examinees need to know how to do table analysis, graphics interpretation, multi-source reasoning, and two-part analysis to answer these questions.
Sample Question (Graphics Interpretation)
Directions: Interpret the graph or graphical image and select the option from a drop-down list to make the answer statements accurate.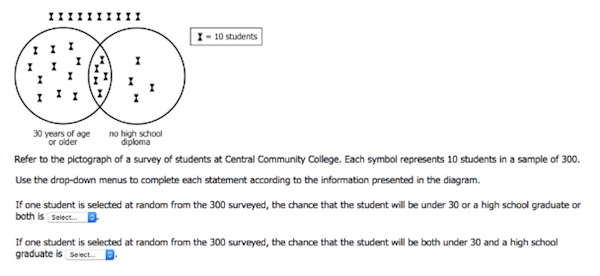 Sample Question (Graphics Interpretation): Answer
Sample Question (Two-Part Analysis)
Directions: Select one answer from each column to solve a problem with a two-part solution. Possible answers will be presented in a table with a column for each part.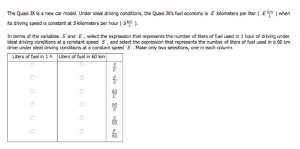 Sample Question (Two-Part Analysis): Answer
Can You Use a Calculator?
Yes, test takers may use the on-screen calculator for this section but may not bring one from home.
Common Pitfalls and How to Avoid Them
Overthinking the question is an easy pitfall for test takers. Like the verbal section, it's not necessary to absorb all the information in the integrated reasoning question and consider every possible ramification of each answer choice. Select the most reasonable option and move on. This approach keeps you from becoming overwhelmed with complex information.
Careless mistakes can prove an equally prevalent problem for test takers. The GMAT offers no partial credit, and since you cannot change an answer on the integrated reasoning portion, minimize errors by rechecking your work before making your selection.
Helpful Tips
Be Aware of the Question Format: Question formats on the integrated reasoning section differ significantly from the kinds of questions the other sections ask. Be familiar with this section's unique style.
Ferret out Extraneous Information: Some tricky questions include more information than needed in order to trip up test takers. Be aware of this and try to weed out information that is superfluous and irrelevant.
Practice Using the On-Screen Calculator: Integrated reasoning is the only section of the GMAT that allows test takers to use an on-screen calculator. Familiarize yourself with how to use it before test day.
Polish Your Graph Reading Skills: Know how to read and interpret bar graphs, line graphs, scatter plots, and other graphics to save time on the test.
The Quantitative Reasoning Section
Skill Areas
The GMAT's quantitative section tests math content knowledge and analytical skills. Students answer questions drawn from algebra, geometry, and arithmetic. The section also tests students' ability to understand, analyze, and utilize data. It determines if test takers can sort through information to determine what they need to solve a problem.
Question Types
The GMAT's quantitative section consists of 31 questions, including problem solving and data sufficiency questions. Problem solving questions are similar to the math questions on most exams. They provide graphs, equations, or text questions, and there are five multiple choice answers from which to select. Data sufficiency questions, on the other hand, provide a question and two data sets. Test takers choose which data set sufficiently answers the question. There are more problem solving questions than data sufficiency questions on the GMAT.
Sample Question (Problem Solving)
If u > t, r > q, s > t, and t > r, which of the following must be true? I. u > s II. s > q III. u > r (A) I only (B) II only (C) III only (D) I and II (E) II and III ANSWER: (E) Source: MBA.com
Sample Question (Data Sufficiency)
Directions: This data sufficiency problem consists of a question and two statements, labeled (1) and (2), in which certain data are given. You have to decide whether the data given in the statements are sufficient for answering the question. Using the data given in the statements, plus your knowledge of mathematics and everyday facts (such as the number of days in July or the meaning of the word counterclockwise), you must indicate whether: Statement (1) ALONE is sufficient, but statement (2) alone is not sufficient to answer the question asked. Statement (2) ALONE is sufficient, but statement (1) alone is not sufficient to answer the question asked. BOTH statements (1) and (2) TOGETHER are sufficient to answer the question asked, but NEITHER statement ALONE is sufficient to answer the question asked. EACH statement ALONE is sufficient to answer the question asked. Statements (1) and (2) TOGETHER are NOT sufficient to answer the question asked, and additional data specific to the problem are needed. Question: If a real estate agent received a commission of 6 percent of the selling price of a certain house, what was the selling price of the house? (1) The selling price minus the real estate agent's commission was $84,600. (2) The selling price was 250 percent of the original purchase price of $36,000. (A) Statement (1) ALONE is sufficient, but statement (2) alone is not sufficient. (B) Statement (2) ALONE is sufficient, but statement (1) alone is not sufficient. (C) BOTH statements TOGETHER are sufficient, but NEITHER statement ALONE is sufficient. (D) EACH statement ALONE is sufficient. (E) Statements (1) and (2) TOGETHER are NOT sufficient. ANSWER: (D) Source: MBA.com
Can You Use a Calculator?
Students are not permitted to use a calculator in the quantitative reasoning section of the GMAT.
Common Pitfalls and How to Avoid Them
Careless mistakes are one of the biggest pitfalls in the GMAT's quantitative section because they can cause test takers to miss easy questions. To avoid this, make sure you answer the question asked, solve for the correct variable, and remember that "no" does not mean "not sufficient" in the data sets. After selecting your choice, review your answer carefully before submitting it. Another major pitfall is over calculating. If you find yourself mired in a long, tedious solution, see if there is a quicker, easier way to find the answer.
Helpful Tips
Pace Yourself. Remember that unanswered questions get marked wrong and count against you so make sure you complete the entire section in the time allotted.
Estimate Intelligently. You can save time by eliminating wildly incorrect answer choices by estimating the answer and then work with what you have left.
Plug in Numbers. For the algebra problems, it is sometimes easier to plug in the answer options as the variable instead of working out the entire equation.
Simplify Calculations. You can use multiples of ten to simplify the math problems on this section and use the process of elimination to get close to the correct answer.
The Verbal Section
Skill Areas
The verbal section tests a student's ability to understand, analyze, and evaluate written information. Students must also show an ability to craft arguments, evaluate them, and form a plan of action. Finally, students demonstrate their knowledge and skill of English language conventions regarding grammar and spelling.
Question Types
The verbal section of the GMAT consists of 36 questions, including reading comprehension, critical reasoning, and sentence correction questions. Reading comprehension questions provide a short essay followed by several multiple choice questions drawn from the text. To answer critical reasoning questions, students choose which option best supports the logic of a given statement. In sentence completion questions, test takers select the best choice from the options to logically complete the sentence provided. Sentence completion questions tend to be the most prevalent.
Sample Question (Critical Reasoning)
The cost of producing radios in Country Q is ten percent less than the cost of producing radios in Country Y. Even after transportation fees and tariff charges are added, it is still cheaper for a company to import radios from Country Q to Country Y than to produce radios in Country Y. The statements above, if true, best support which of the following assertions? (A) Labor costs in Country Q are ten percent below those in Country Y. (B) Importing radios from Country Q to Country Y will eliminate ten percent of the manufacturing jobs in Country Y. (C) The tariff on a radio imported from Country Q to Country Y is less than ten percent of the cost of manufacturing the radio in Country Y. (D) The fee for transporting a radio from Country Q to Country Y is more than ten percent of the cost of manufacturing the radio in Country Q. (E) It takes ten percent less time to manufacture a radio in Country Q than it does in Country Y. ANSWER: (E) Source: MBA.com
Sample Question (Sentence Correction)
Directions: This question presents a sentence, part of which or all of which is underlined. Beneath the sentence you will find five ways of phrasing the underlined part. The first of these repeats the original; the other four are different. If you think the original is best, choose the first answer; otherwise choose one of the others. This question tests correctness and effectiveness of expression. In choosing your answer, follow the requirements of standard written English; that is, pay attention to grammar, choice of words, and sentence construction. Choose the answer that produces the most effective sentence; this answer should be clear and exact, without awkwardness, ambiguity, redundancy, or grammatical error. Question: While larger banks can afford to maintain their own data-processing operations, many smaller regional and community banks are finding that the cost associated with upgrading data-processing equipment and with the development and maintenance of new products and technical staff are prohibitive. (A) cost associated with (B) costs associated with (C) costs arising from (D) cost of (E) costs of ANSWER: (B) Source: MBA.com
Common Pitfalls and How to Avoid Them
Some students prepare for the GMAT by using the wrong test prep materials. The GMAC puts out the only official study guides so these materials should come first — all of other study prep aids are supplementary. Select materials from recognized brands such as Kaplan, Magoosh, or the Princeton Review to assure the content is high quality. Stick with materials prepared especially for the GMAT.
Avoid spending too much time trying to memorize formulas and vocabulary. Instead, focus on reading comprehension and problem solving skills.
Helpful Tips
Take Notes: Instead of reading passively, use your scratch pad to take notes while you are perusing the essay so you remain engaged with the text.
Look for the Main Idea: You are more likely to answer challenging questions if you understand the overall concept of the essay instead of reading it for minor subpoints.
Use the Process of Elimination: If you are not absolutely sure of the answer, eliminate the incorrect choices and try to find ones to disprove among the remaining options.
Simplify the Vocabulary: When you run into complex or unfamiliar words, try replacing them with simple, everyday ones to make sure you understand the question.
How Is the GMAT Scored?
The official score report includes scores for the quantitative, verbal, analytical writing, and integrated reasoning sections as well as a total score. Each section contains a standard score and a percentile ranking. Total scores vary between 200 and 800 with two-thirds of test takers scoring between 400 and 600. The verbal and quantitative reasoning scores range from 0 to 60. These sections are graded on a fixed scale, and unanswered questions count against the test taker.
The GMAT uses two independent ratings to score the analytical writing section based on the quality of the essay's ideas, how those ideas are structured, the relevance of supporting examples, and correct use of grammar and sentence structure. Test takers whose first language is not English receive a fair and sensitive assessment from the graders. The integrated reasoning section receives a score of 1-8 in single digit intervals. To be considered correct, test takers must mark each answer in a sequence correctly — there is no partial credit.
Score Ranges on the GMAT General Test
| GMAT Section | Score Range |
| --- | --- |
| Analytical Writing Assessment | 0.0-6.0 |
| Integrated Reasoning | 1-8 |
| Quantitative and Verbal Reasoning | 6-51 |
| Total | 200-800 |
Source: MBA.com
What's Your Percentile Ranking?
The GMAT provides a percentile rank, which refers to the number of test takers you outscored. For example, if you score in the 78th percentile, you outscored 78% of the examinees who take the GMAT. Students receive a percentile rank for each section of the test and one overall. Percentile scores can vary from year to year depending on how the previous year's examinees performed. Schools can see both the standard score and the percentile rank of each applicant who submits the GRE.
What's an Average Score on the GMAT?
Average Scores on the GMAT, 2015-17
| GMAT SECTION | AVERAGE SCORE |
| --- | --- |
| Analytical Writing Assessment | 4.44 |
| Integrated Reasoning | 4.23 |
| Quantitative | 39.4 |
| Verbal | 26.86 |
| Total | 556.04 |
Source: MBA.com
How Do You Register for the GMAT?
Registering for the GMAT starts with creating a account on gmac.com. Once registered, test takers receive helpful information, study tips, practice questions, and information about business school. The GMAT's website lets test takers enter the appropriate zip code to search for a nearby testing center. Test takers can cancel or reschedule the GMAT online if necessary. Rescheduling costs $60, and cancellations provide an $80 refund only if processed more than seven days before the scheduled test. Additional fees apply for rescheduling or cancelling a test less than seven days prior to the exam date.
When Should You Take the GMAT?
Test takers can register for the GMAT at any time during the year. A good rule of thumb, is to take the exam two months before the first application is due since schools need time to receive the scores.
How Much Does the GMAT Cost?
The GMAT costs $250 no matter where in the world the student takes it, but refund policies vary by country.
How Many Times Can You Take the GMAT?
Test takers can retake the GMAT once every 16 days but no more than five times in 12 calendar months or eight times in a lifetime.
How Should You Prepare for the GMAT?
At-Home Study Methods
Students can take advantage of a variety of at-home study methods to prepare for the GMAT.
Printed Study Guides: MBA.com offers official printed study guides for the GMAT, but students can find study guides from other sources both online and in bookstores.
Flashcards: Available in both digital and analog formats, flashcards help students learn vocabulary and practice math facts. Flashcards are appropriate for individual and group study formats.
Private Tutoring: Companies like Kaplan offer one-on-one tutoring with experienced GMAT tutors. Some students also find private tutors through general online tutoring platforms.
Studying Apps: Downloadable apps filled with practice questions, videos, and digital flashcards can help students study on the go.
Online Practice Tests: Students can take online practice tests to get a feel for what the exam is like. Some practice tests are free while others charge a fee.
GMAT Prep Courses
Private companies such as Kaplan and the Princeton Review provide in-person and online GMAT preparation courses designed to help test takers improve their scores. The cost of these courses can range from around $150 to more than $1,000. Some companies provide free courses online, although these are not typically as comprehensive. Most courses — especially in-person ones — operate on a set schedule, but a few are self-paced. Prep courses can include practice questions, adaptive tests, and videos.
Studying Tips for the GMAT
Invest Time in Preparing: Make use of books, software, blogs, tutors, and online courses that can help you be fully prepared to score well on the exam.
Learn to Guess Strategically: Develop strategies to use that increase your chances of choosing well when you aren't sure of the correct answer to a question.
Take Practice Tests on the Computer: Since the GMAT is a computerized exam, be sure to practice using a computer and not just with books or papers.
Focus on the Fundamentals: The questions you can answer correctly without hesitation, not the most complex questions, tend to determine your score on the GMAT.
Work on Your Pacing: The GMAT is a timed test, so answering questions correctly within the appropriate time frame is a key skill to performing well on the exam.
Helpful Resources
Private educational companies offer a variety of resources to help test takers study for the GMAT.
What Should You Expect on Test Day?
On the day of the exam, test takers should arrive 30 minutes before their scheduled time to present a valid ID and sign the testing agreement. Friends and family may not stay at the center or communicate with an examinee. The test begins as soon as a test taker sits down at the computer and lasts just under 3 hours and 30 minutes. Test takers can take advantage of two optional eight-minute breaks and may ask for additional restroom breaks—although the clock does not stop for these. The proctor will provide scratch paper, and any test taker who needs more can raise a hand to ask for it.
GMAT Security
To prevent cheating and to secure privacy, GMAT testing centers take security seriously. Test takers can expect to produce a valid ID and pose for a digital photograph. They also have to sign the GMAT Non-Disclosure Agreement in which they state they understand and will abide by the rules of the GMAT. Most importantly, testing center staff will scan each test taker's hands using a palm vein reader, which is a biometric device that assures each person has a single GMAT record.
What Should You Bring with You?
Valid ID: Test takers must present legible, current identification such as a passport, government-issued driver's license, government-issued identity card, or a military ID. Names of Programs You Wish to Send Your GMAT Score To: On the day of the exam, test takers select which schools should receive their GMAT scores, so a written list is handy to have. Appointment Confirmation Number: It's helpful to bring a copy of the confirmation email or letter, but examinees can still take the test without it as long as they have an appointment. An Extra Layer of Clothing: A cardigan, sweater, or light jacket can help a test taker stay comfortable and focused in case the testing room is chilly.
What Should You Leave at Home?
Study Notes/Books: The GMAT is not an open-notes or open-book exam. Students must leave all study tools outside the testing room, preferably at home or in the car. Your Own Scratch Paper: Because scratch paper from home could contain notes or other aids, the GMAT provides scratch paper for examinees at the test site. Your Own Calculator: During the integrated reasoning portion of the GMAT, the test proctor provides examinees with an on-screen calculator. Otherwise, using a calculator is prohibited. Watches, Cell Phones, and Other Electronic Devices: Because these items could give test takers access to notes, websites, or other information that offers an unfair advantage, they are prohibited.
Leading Up to Test Day
Get a full night of rest. Studies have shown that lack of sleep can affect cognitive performance and test scores. Wear appropriate clothes.Research shows that test takers who wear comfortable, weather-appropriate clothes improve their understanding. Eat a nutritious breakfast. Start the day with a power-packed meal of fats, nutrients, water, and carbs before showing up at the test site. Nuts, yogurt, apples, eggs, and other brain foods can increase cognitive powers. Leave early enough to arrive on time. Not only can you avoid missing your testing window, but you can also eliminate the anxiety from a near-late arrival. Gather everything you need the night before, including sharpened pencils, your photo ID, and your appointment confirmation. This lets you avoid a frantic search before leaving for the test.
Cram for a test the night before. Studies suggest students perform better when they maintain a regular study schedule. Stay up late. Even if you are studying or relaxing, staying up late can interfere with your natural sleep cycles, limiting brain-boosting REM sleep. Forget to exercise. Just 20 minutes of exercise before an exam can boost your score. You don't need a killer workout, just a good jog, walk, or cardio session. Neglect to bring some healthy snacks with you to the test center. You can grab a handful of nuts or a protein bar during a scheduled break. Miss taking your ADHD medication. Studies show that taking prescription medication for ADHD enhances test scores, so make sure you are following your doctor's orders about medicine.
Accommodations for Test Takers with Disabilities or Health-Associated Needs
Examinees who meet the Pearson VUE requirements may qualify for accommodations by submitting a request and documentation 16-20 days before they plan to register for the test. Accommodations are available for ADHD, learning and cognitive disabilities, physical and systemic disabilities, psychological disabilities, and sensory disabilities. Test takers who need more information about qualifications and how to apply for testing accommodations can find it on the GMAT's official website.
Preview Your Test Scores
Once test takers complete the exam, they are allowed to preview their unofficial scores before leaving the test center. Examinees can choose to report or cancel their scores. You can elect to cancel your scores if you believe you can do better on a subsequent test. The testing program gives test takers two minutes to make their selections before automatically cancelling the scores. Students who choose to report a score but change their minds within 72 hours can still cancel the score for a fee of $25 by going online. Cancelled scores do not show up on a score report, but a test taker can choose to reinstate a cancelled score for up to four years and 11 months after testing.
GMAT Enhanced Score Report
The GMAT Enhanced Score Report contains a detailed analysis of the examinee's performance by pacing, focus areas, and question type so students may improve their results on the next attempt. Key features of the report include overall section performance ranking, percentage of questions correctly answered, and a customized summary report assessing strengths and weaknesses. Students may access the report for up to five years by using the GMAT's official website, and the report costs $24.95.
Submitting Your Scores
When Will You Get Your Official Scores?
Within 20 days of the test, you will receive an email with a link to your official scores. Those who do not have access to email should contact Pearson VUE for assistance.
How Do You Submit Your Scores to Schools?
On the day you take the GMAT, you may choose five schools to send your score report to. To send scores to more than five schools, you must pay an extra fee. Once you have chosen your score recipients, you cannot change them.
What Scores Will Schools See If You Take the Test More Than Once?
Test takers can select to keep or cancel their scores after completing the GMAT. Business schools do not see cancelled test scores. For a fee, test takers can elect to reinstate cancelled scores from up to four years and 11 months ago.
How Long Will Your Scores Be Valid?
GMAT scores are valid for five years, but test takers can request reports for up to ten years. Scores over ten years old are no longer available. To see scores under five years old, test takers log in to their accounts at www.mba.com. To request scores between five and ten years old, students must submit a request and pay a fee.
Search top-tier programs curated by your interests.
Let us know what type of degree you're looking into, and we'll find a list of the best programs to get you there.