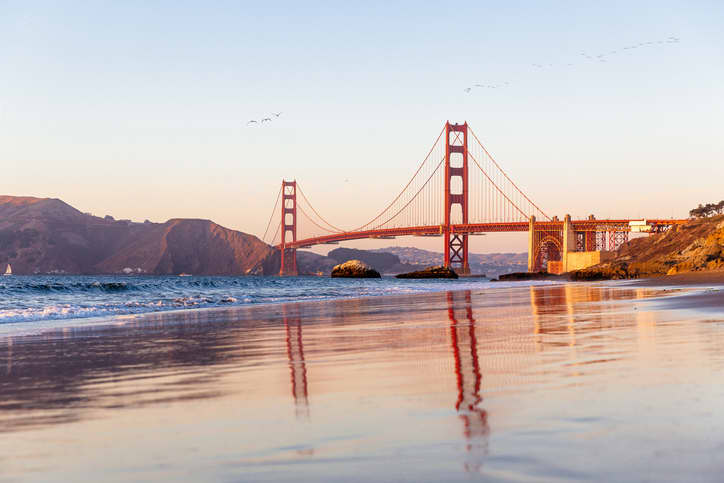 Accounting Degree Overview for California
Are you ready to find a school that's aligned with your interests?
Hosting the largest population in the United States, California also employs the most accountants in the nation. The 148,500 accountants working in the state earn some of the top salaries in the country, according to the Bureau of Labor Statistics (BLS), making the state an excellent choice for those aspiring to join the field.
With a wide suite of household-name companies making their home in California, accountants can find ample opportunities in major corporations, accounting firms, and entertainment giants. Graduates with an accounting degree can pursue careers as certified public accountants (CPAs), personal financial advisors, and consultants. Additionally, the state's strong business sector creates high demand for financial managers and other executives, who often have a background in accounting.
On this page, prospective students can learn more about accounting degrees in California, including state-specific data, degree paths, and career opportunities.
CALIFORNIA AT A GLANCE
Top California Schools for Accounting
Featured Online Programs
Find a program that meets your affordability, flexibility, and education needs through an accredited, online school.
WHY GO TO COLLEGE FOR ACCOUNTING IN CALIFORNIA?
According to the National Center for Education Statistics (NCES), 3,727,266 students enroll in postsecondary programs annually in California. Hosting excellent institutions that offer in-person, online, and hybrid programs, the state boasts many opportunities for prospective students.
While California's cost of living remains high, the state provides abundant financial support to students and institutions. Additionally, some online programs allow students living out of state to pay in-state or otherwise reduced tuition rates.
To defray costs for out-of-state students, California participates in a regional program that allows students from participating states to pay reduced tuition at some institutions. The region includes neighboring states, such as Oregon and Utah, and extends as far east as the Dakotas.
Education Statistics for California
The table below illustrates education statistics for California compared to the country as a whole. The information includes numbers of two- and four-year colleges, distance learning statistics, and state-allocated funding for postsecondary education. Readers can also find data on the percentage of the population that completes education at the associate, bachelor's, and graduate levels.
Sources: NCES, SHEEO, U.S. Census Bureau – American Community Survey
Accreditation for California Schools
Prospective accounting students should ensure the program they choose holds accreditation, preferably from a regional accrediting body. While national accreditation approves certain types of schools, such as for-profit and religious institutions, regional accreditation generally represents the most rigorous standards in higher education, ensuring a quality accounting program.
Many schools only accept degrees and transfer credits from regionally accredited institutions. Additionally, many professional licenses and certifications require an accredited degree. The WASC Senior College and University Commission regionally accredits California schools.
CONSIDERATIONS FOR AN ACCOUNTING DEGREE IN CALIFORNIA
When researching accounting degrees in California, prospective students should compare their individual career goals with a program's offerings. Concentrations, distance learning options, and cost can also play important roles in the decision-making process. The sections below offer detailed information on accounting degrees and careers in California to help students select the right accounting program.
Accounting Degree Levels
Students should choose the proper degree level for their intended career. There are four accounting degree levels, with each leading to different careers:Associate Degree in Accounting
Accounting Concentration Options
High concentrations of California accountants are employed in metropolitan areas like San Francisco and Los Angeles, giving them access to opportunities across many large corporations. Aspiring accountants with an interest in technology might find an accounting information systems concentration helpful in landing jobs with companies like Apple, Facebook, HP, and Oracle. Those hoping to spring from accounting into executive management benefit from a management accounting concentration.
Explore More Accounting Concentrations
On-Campus Versus Online Program Options
Some students thrive in on-campus programs, while others benefit more from online programs. The following sections outline the differences between on-campus, online, and hybrid programs to help prospective students determine the right format for their needs.
On-Campus
In a traditional on-campus program, students physically commute to take class. This option suits students who prefer to engage in face-to-face conversations with professors and colleagues. On-campus programs offer the advantage of direct access to extracurricular activities and networking events. Students requiring more hands-on guidance may elect to take classes on campus.
Online Programs
Many students gravitate toward online programs because of the flexibility they offer. Online programs may run asynchronously, allowing students to access course materials at their convenience and participate in discussions through online forums. Other programs require real-time meetings via webcam. Self-directed participants with a strong ability to schedule their own work tend to excel in online programs.
Hybrid Programs
In a hybrid program, students balance on-campus courses with online learning. Rather than accessing all materials online, program participants attend some sessions on campus. On-campus requirements might take the form of weekly in-person courses or immersion events that take place over the course of several days.
Source: NCES
Paying for Your Accounting Degree
Students can finance their California accounting degrees through many potential sources, such as loans, scholarships, grants, and work-study programs.
Often offered by professional associations and local organizations, scholarships can greatly reduce the financial burden of pursuing a degree. Students should search for scholarships based on their area of study, and consider whether they might qualify for awards based on their particular demographic.
Students must submit the FAFSA to determine their eligibility for federal financial aid. In California, the FAFSA also qualifies students for financial assistance through the California Student Aid Commission.
Source: NCES
In-State Versus Out-of-State Tuition
Many public institutions vary tuition rates depending on the student's state of residence. California's public institutions offer lower in-state tuition rates than the national average.
Students living outside of California may pay higher tuition fees than those living within the state. Using averages from the NCES, the table above illustrates the major difference in cost between in-state and out-of-state tuition. However, some programs allow all online students to pay in-state tuition rates regardless of residency.
California collaborates with neighboring states through the Western Interstate Commission for Higher Education. With programs for both undergraduate and graduate students, the agreement allows students living in the region to attend California institutions at reduced rates.
California's Cost of Living
Students should remember to factor a state's cost of living into their budget plan when researching locations for school. Housing, groceries, utilities, and transportation all make up important lines in any student's budget.
World Population Review serves as an excellent resource for finding this information. The site reports California's cost of living at 151.7, among the highest in the country.
Other School Selection Criteria
When researching schools, students may also wish to take into account personal and professional preferences in areas like school and class sizes, program length, and available resources.
School Size
Some students prefer smaller campuses, while others like the bustle of a larger school. Large schools can feel overwhelming, but may offer more extracurriculars and events, while smaller schools can feel more intimate and offer more personal attention from advisors and faculty.
Student-to-Teacher Ratio
Schools with small student-to-teacher ratios typically offer more individualized attention from faculty.
Program Length
Some schools offer accelerated programs that allow students expedite graduation and/or part-time programs that lengthen the time to graduation.
Resources
Prospective students should research the resources at potential schools, including library services, career support, and alumni networking opportunities. Online students should confirm that school resources apply to distance learners.
EXPLORE OUR RANKINGS FOR THE BEST ACCOUNTING PROGRAMS AT EACH LEVEL
CAREERS FOR ACCOUNTING GRADUATES IN CALIFORNIA
U.S. News & World Report ranks California's economy as the fourth-strongest in the country. Ranked first for its booming business environment, the state claims a strong base of veteran companies and a constant influx of new businesses. Aspiring accountants can take advantage of career opportunities in major companies, exciting startups, consulting firms, and the entertainment industry.
Tech strongholds in Los Angeles and Silicon Valley employ many accountants in the state. The capital area around Sacramento also boasts a large concentration of accounting professionals.
For those interested in pursuing careers in the country's top accounting firms, the 'Big Four' — Deloitte LLP, PricewaterhouseCoopers, Ernst & Young, and KPMG — each run offices in California. Between them, these four companies handle the majority of auditing and corporate-level accounting services in the nation.
The sections below offer details on promising accounting careers in California.
Select Accounting Careers in California



Payroll Clerk

A type of accounting clerk, payroll clerks manage data entry related to employee timesheets and ensure correct payment details. They may calculate tax withholdings, commission earnings, and benefit deductions. Depending on the organization, they may also handle some budget-related tasks. Typically, payroll clerks hold an associate degree, though some employers may require a bachelor's degree.

Job Outlook in California: +1.1% (2016-2026)
Learn More




Cost Estimator

Cost estimators analyze data related to materials, labor, and production time to determine how much money a company will need to spend to complete a project. They may also help look for ways to reduce spending over the life of a project. Cost estimators often specialize in areas like construction or manufacturing. Most cost estimators hold a bachelor's degree.

Job Outlook in California: +16.2% (2016-2026)
Learn More




Financial Manager

Financial managers oversee their company's financial operations. They work with other executives to form financial goals and implement strategies related to those goals. They handle investment activities, compile reports, study the market and competition, and supervise employees in budget-related roles. Many employers prefer financial managers with a master's degree.

Job Outlook in California: +21.7% (2016-2026)
Learn More



California Employment Trends
By pursuing an accounting degree in California, students can prepare for a wide range of career opportunities in the state. Hosting 148,500 accountants, the state hosts the most accountants nationwide. The BLS also ranks California as the fifth highest-paying state for accountants in the nation.
California's top industries include large tech corporations, entertainment hubs, Napa Valley wine, and tourism, offering accounting professionals a variety of career paths. Salaries in the state consistently outpace the national average, though cost of living in California remains high.
California Requirements for Certified Public Accountants
In California, CPA candidates must complete at least 150 credit hours of college coursework, including bachelor's-level studies. Since most bachelor's degrees require 120 credits, those pursuing CPA licensure must continue their studies, often through a master's degree. Of those 150 credits, students must complete 24 credits in accounting, 24 credits in business, and 10 credits in ethics. CPA candidates must also complete 12 months of general accounting work experience and pass an ethics exam.
RESOURCES
Frequently Asked Questions



Is accounting a good career in California?

Accountants in California enjoy job opportunities across exciting industries. They also receive salaries that surpass the national average.




How much do accountants earn in California?

According to the BLS, California accountants earned an annual mean wage of $83,910 as of May 2019, making California the fifth highest-paying state in the nation for accountants.




How much do accountants earn in California?

The state's thriving business environment creates strong demand for many accounting jobs, such as cost estimator, personal financial advisor, accountant, and budget analyst.




How much do accountants earn in California?

Yes. California hosts many accounting programs at the undergraduate and graduate levels.




Does California have online accounting programs?

Yes. California offers a variety of fully online and hybrid accounting programs at the undergraduate and graduate levels.



California Accounting and Education Organizations
ACCOUNTING PROGRAMS IN CALIFORNIA
Prospective students interested in pursuing an accounting degree in California can anchor their research using the following list of accredited accounting programs. The ranking is compiled using data from the Integrated Postsecondary Education Data System.
Kick off your finance career with one of these affordable online accounting degrees. Compare the top programs, crunch the numbers, and get the best value.
A master's in accounting opens the door to in-demand, lucrative careers. Explore our list of the best accounting master's degree programs for 2021.
Bachelor's degrees in accounting can build strong careers. Become an accountant through an accredited, affordable program that leads to CPA certification.
Search top-tier programs curated by your interests.
Let us know what type of degree you're looking into, and we'll find a list of the best programs to get you there.