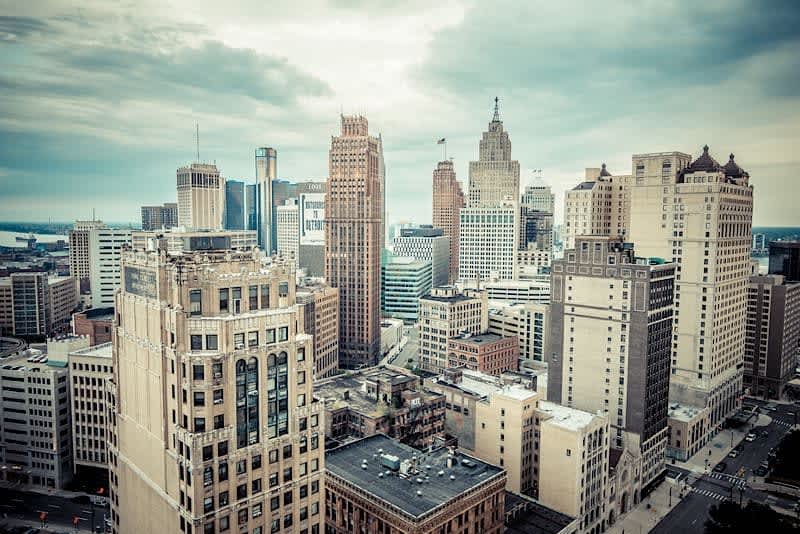 Accounting Degree Overview for Michigan
Are you ready to find a school that's aligned with your interests?
Michigan boasts the longest freshwater coastline in the U.S., with more than 11,000 inland lakes. In fact, the state's name comes from an Ojibwe word meaning "large lake," or "large water." But Michigan is known for more than its vast collection of lakes; it also features a variety of colleges and universities, many of which offer online accounting degrees.
Online accounting degrees in Michigan can pave paths to stable, well-paying careers. Popular accounting careers in Michigan include accountant and auditor, bookkeeper and auditing clerk, and financial manager. Accountants in Michigan benefit from competitive salaries while residing in a state with a below-average cost of living. More than 35,000 accountants call the state home.
In this guide, we explain why learners should consider getting their associate, bachelor's, or master's in accounting in Michigan. We also describe potential accounting careers in Michigan, highlighting reasons to work in the state after graduation. We conclude with a database of some of the best accounting schools in Michigan.
Michigan at a Glance
Top Michigan Schools for Accounting
Michigan State University
University of Detroit Mercy
Michigan Technological University
Hope College
Andrews University
Spring Arbor University
Calvin College
Madonna University
Albion College
Lawrence Technological University
Why Go to College for Accounting in Michigan?
Students considering online accounting degrees in Michigan can select from a variety of colleges and universities. They also benefit from a low cost of living and a wealth of career opportunities after graduation. Michigan boasts 44 accounting programs at public and private higher learning institutions, giving prospective degree-seekers ample choices. These include four-year and two-year institutions that offer associate, bachelor's, master's, and doctoral programs in accounting.
Students can find major colleges throughout the state, including in cities like Grand Rapids, Ann Arbor, and East Lansing. Many of these institutions offer fully or partially online accounting degrees in Michigan, providing convenience and flexibility. Those who qualify to pay in-state tuition can save significantly on their degrees from public four-year institutions in Michigan. Out-of-state learners in neighboring states may qualify for reduced tuition rates if their states participate in the Midwest Student Exchange Program.
Students who earn their accounting degrees in Michigan can benefit from staying in the state after graduation. They can use their connections and networks from college to find job and internship opportunities. Also, university career resource centers often offer help to alumni, participate in partnerships, and/or maintain strong connections with companies in the surrounding communities.
Education Statistics for Michigan
Michigan residents care about education. The state features over 100 higher education institutions, with 73 four-year universities and 30 two-year colleges. Online learning is not yet as popular in Michigan as it is in the rest of the country, but more than 25% of Michigan's students partake in some type of distance education. The percentage of adults seeking higher education comes close to the national average. Fewer adults in Michigan hold bachelor's or graduate degrees compared to the national average, but more earn associate degrees.
Higher Education in Michigan
Accreditation for Michigan Schools
Attending an accredited college is important to ensure you receive a high-quality education. Schools that hold accreditation have undergone rigorous, third-party evaluation processes to verify that they meet educational standards. Universities can hold regional or national accreditation.
Regional accreditation is generally more popular and respected than national accreditation, which typically applies to for-profit colleges. Students who attend regionally accredited universities are more likely to qualify for financial aid and successfully transfer credits to other institutions. Some professions even require candidates to graduate from regionally accredited schools to qualify for professional licensure or receive graduate program admission.
When choosing an online school in Michigan, look for verification from the Higher Learning Commission, the regional accrediting agency providing accreditation to colleges in the state. Prospective accounting majors should also look for programs accredited by the Association to Advance Collegiate Schools of Business, which provides accreditation to undergraduate and graduate accounting programs.
Top Online Programs
Explore programs of your interests with the high-quality standards and flexibility you need to take your career to the next level.
Considerations for an Accounting Degree in Michigan
Many different factors can influence the process of selecting an accounting program. Choosing the right school and program requires lots of thought and research. Aspiring accounting students must consider their prospective degree levels, available accounting concentrations, and on-campus vs. online options.
Other considerations may include program length, cost, reputation, and curriculum. For example, in-state and out-of-state learners pay different tuition rates to attend four-year public institutions in Michigan. The information below can help you decide if Michigan is the right state for your accounting education.
Accounting Degree Levels
Accounting degree level may impact school choice. Students seeking accounting careers can pursue associate, bachelor's, master's, or doctoral degrees. Not all colleges offer all accounting degree levels; two-year institutions only offer associate programs in accounting, and some universities may offer bachelor's but not master's degrees in accounting.
Accounting Concentration Options
Students pursuing online accounting degrees in Michigan can choose from a variety of concentrations. Auditing and public accounting may prove especially advantageous to accounting majors because they apply broadly across career opportunities in the state. Below, we describe what it looks like to pursue an auditing or public accounting concentration, including careers related to those concentrations.
Explore More Accounting Concentrations
On-Campus Versus Online Program Options
Students choosing where to earn their accounting degrees in Michigan must weigh the pros and cons of attending online, on-campus, and hybrid programs. Below, we discuss the benefits and drawbacks of each option.
On-Campus Programs
Prospective college students often imagine a traditional, on-campus experience. Benefits of attending class on a brick-and-mortar campus include structure, since on-campus learners attend classes at specific times and places each week, and more face time with professors and peers. On-campus programs also provide more opportunities to participate in extracurricular activities or student groups. Recent high school graduates are often ideal learners for on-campus programs.
Online Programs
Online degrees typically offer more flexibility, convenience, and affordability than traditional on-campus programs. Online programs appeal to students who need to work full time or take care of other personal responsibilities while earning their degree. Instead of attending classes at specific times, most online programs let learners log on to class and complete coursework at their convenience. Distance learning programs frequently attract working learners, parents, and older students who may have been out of school for a long time.
Hybrid Programs
Hybrid programs offer the best of on-campus and online education. Students can complete some coursework online, enjoying more flexibility and convenience than in fully on-campus programs. However, they also get the benefit of attending class in person part of the time, which allows learners to get to know their teachers and classmates better.
Percentage of Students Enrolled in Distance Education
Paying for Your Accounting Degree
Students pursuing online accounting degrees in Michigan from public four-year universities pay more in tuition than the national average. Michigan residents pay $12,435 for in-state tuition and fees at public four-year universities, compared to the national average of $9,037. In-state students attending public two-year colleges also pay more than the national average. Those attending private four-year universities, as well as out-of-state students at public two-year colleges, actually pay less than the national average.
Accounting majors can take advantage of a variety of financial aid opportunities to help fund their education, including scholarships, grants, fellowships, and loans. See the links below for more information about financial aid in Michigan.
Average Cost of College Tuition and Fees in Michigan, 2017-2018
In-State Versus Out-of-State Tuition
Michigan residents studying at public four-year universities in the state pay, on average, $21,153 less than the $33,498 out-of-state individuals pay each year. In-state tuition at two-year schools also costs much less than out-of-state tuition for those schools: $3,469 vs. $6,552. Accounting majors attending private institutions all pay the same tuition, regardless of where they live.
Out-of-state learners in 12 neighboring states in the Midwest may qualify for tuition discounts by applying for the Midwest Student Exchange Program (MSEP) through the Midwestern Higher Education Compact. A multi-state tuition reciprocity program, MSEP allows students to attend certain academic programs at public institutions in any participating state by paying no more than 150% of in-state tuition. Private colleges offer 10% tuition discounts to out-of-state MSEP learners. Participating states include Iowa, Minnesota, Ohio, and Wisconsin.
Some Michigan online accounting degree programs may offer in-state tuition rates for all learners, regardless of residency.
Michigan's Cost of Living
The low cost of living presents another benefit for students earning their accounting degrees in Michigan. The 10th-cheapest state in the U.S., Michigan boasts a cost-of-living index score of 88.9, with 100 being the U.S. average. This means Michiganders pay about 11% less overall for expenses like groceries, transportation, housing, and utilities. The state boasts particularly affordable housing, with residents paying 75% of the national average for housing.
Other School Selection Criteria
A variety of factors may influence prospective learners' school selection process, regardless of where they plan to live while pursuing their degree. Potential school selection criteria include:
How Big Is the School?
Some prefer the intimacy of a small college, while others seek the excitement of a large student body.
How Long Will the Degree Take to Complete?
Factors influencing program length include required credits to graduate, the number of credits students take each term, and the availability of classes year-round. Degree level also impacts program length.
Does the University Boast a Robust Alumni Network?
Graduates can often use their school's alumni network to get job leads and interviews.
How Much Does the Program Cost?
Tuition rates vary significantly, depending on whether students choose in-state or out-of-state schools and private or public institutions. Degree level also influences cost, with more advanced degrees typically costing more.
How Competitive Is the Admission Process?
Some programs receive many more applicants than they can accept and tend to require higher test scores and GPAs. Does the school publish data on what percentage of applicants it accepts each year?
Does the Program Boast Prestigious Faculty Members?
Look for programs featuring award-winning, experienced teachers who hold Ph.D. degrees.
Explore Our Rankings For the Best Accounting Programs at Each Level
Careers for Accounting Graduates in Michigan
Home to many large national companies, Michigan offers opportunities for graduates of accounting programs at all degree levels. Michigan ranks near the middle of the U.S. in terms of fiscal stability, coming in at number 27 according to U.S. News & World Report.
With a GDP of about $508.9 billion, Michigan's important industries include trade, professional and business services, transportation and utilities, and health and education. All of these industries use accounting professionals to figure out how to cut costs, make more money, and operate more efficiently.
All of the "Big 4" accounting firms — Deloitte LLP, PricewaterhouseCoopers, Ernst & Young, and KPMG — maintain a presence in Michigan. The Big 4 dominate the accounting industry, offering a variety of auditing, tax, management, and assurance services. These companies' presence in Michigan increases graduates' likelihood of finding promising accounting jobs in the state. Below, we discuss some potential accounting careers in Michigan.
Select Accounting Careers in Michigan



Accountants and Auditors

Accountants and auditors prepare, maintain, and analyze financial records. They help organizations run smoothly by ensuring the accuracy of financial information. They calculate tax information, inspect accounting systems for inefficiencies, and suggest ways to improve profits. Accountants and auditors need a bachelor's degree at minimum, and many hold a master's degree.

Job Outlook in Michigan: 0.7%




Cost Estimators

Cost estimators analyze data to estimate the cost of producing goods or providing services, considering the time, materials, money, and labor needed. Most employers prefer cost estimators to hold a bachelor's degree. Typical job duties include reading blueprints to prepare estimates; recommending strategies to reduce costs; and working with engineers, architects, and contractors.

Job Outlook in Michigan: 3.6%




Credit Counselors

Credit counselors educate individuals and organizations about debt management. They explain loan restrictions and requirements, develop debt management plans, provide budget counseling, and advise on credit issues. Credit counselors typically need a bachelor's degree. The job outlook for credit counselors in Michigan is much better than the national job outlook for the position (9%).

Job Outlook in Michigan: 15.5%



Michigan Employment Trends
Projected Job Growth for Accountants
Curious about other accounting jobs? Explore more accounting careers.
Students who plan to stay in the state can benefit from pursuing a variety of online accounting degrees in Michigan, and the most lucrative accounting careers typically require a bachelor's degree at minimum. In many cases, employers prefer job candidates with a master's degree in accounting. Even in cases where jobs do not require a master's degree, these credentials may expand career opportunities and salary potential.
Tax examiners and collectors, who need a bachelor's degree, make above-average salaries in Michigan, making this an attractive career for accounting students in the state.
Accounting students might also consider becoming personal financial advisors, which typically requires a master's degree. These professionals make more than $100,000 in Michigan. Moreover, accountants and auditors in Midland, Michigan, earn an annual wage of $90,880, making Midland one of the top-paying metropolitan areas for accountants and auditors in the United States.
Michigan Requirements for Certified Public Accountants
Certified public accountant (CPA) requirements vary by state. Prospective CPAs must research the specific requirements for the state in which they hope to practice. Those aiming to practice in Michigan must meet the following requirements, set by the Michigan Board of Accountancy:
Complete 150 college credits, including 21 credits in accounting, three credits in auditing, and 24 credits in general business subjects
Hold a bachelor's degree at minimum
Submit transcripts within 60 days of taking the test
Complete at least one year and 2,000 hours of experience in industry, government, academia, or public practice employment
No age requirement
No citizenship requirement
No residency requirement
No social security number requirement
No ethics exam requirement
Resources
Frequently Asked Questions



Is accounting a good career in Michigan?

Yes. Students can choose from many well-paying accounting careers in Michigan. Accountant jobs are not projected to grow as quickly in Michigan as in other places, but accounting remains a reliable, relatively lucrative career path in the state.




How much do accountants earn in Michigan?

Accountants and auditors in Michigan make $75,170, close to the national annual mean wage for their occupation. Some accounting-related careers in the state garner above-average salaries, including tax examiners and collectors.




What accounting jobs are there in Michigan?

Accounting jobs in Michigan include accountant and auditor, personal financial advisor, financial manager, and tax examiner and collector. Other potential accounting jobs include bookkeeper, payroll clerk, and credit counselor.




Can I get an accounting degree in Michigan?

Yes. Students can choose from dozens of in-person and online accounting degrees in Michigan. See below for our database of the best accounting schools in Michigan.




Does Michigan have online accounting programs?

Yes. Many universities offer fully or partially online accounting degrees in Michigan. Prospective learners can search our database to find the top online accounting programs in Michigan.



Michigan Accounting and Education Organizations
Kick off your finance career with one of these affordable online accounting degrees. Compare the top programs, crunch the numbers, and get the best value.
A master's in accounting opens the door to in-demand, lucrative careers. Explore our list of the best accounting master's degree programs for 2021.
Bachelor's degrees in accounting can build strong careers. Become an accountant through an accredited, affordable program that leads to CPA certification.
Search top-tier programs curated by your interests.
Let us know what type of degree you're looking into, and we'll find a list of the best programs to get you there.