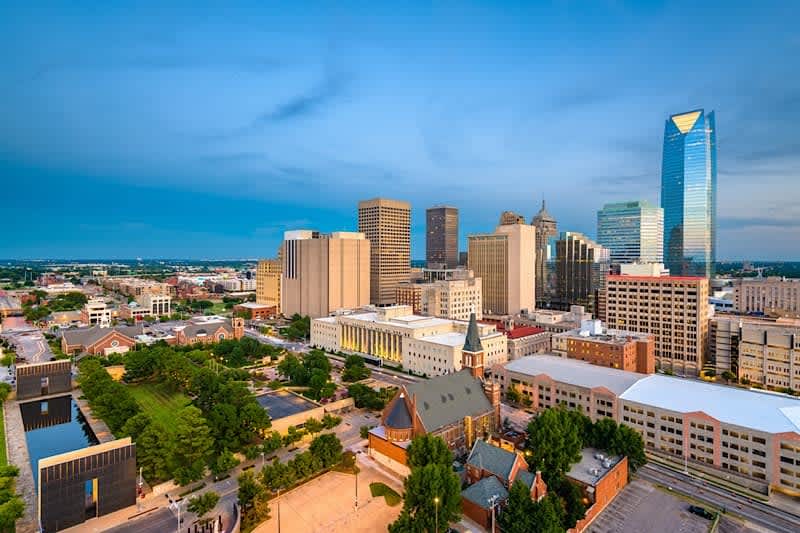 Accounting Degree Overview for Oklahoma
Are you ready to find a school that's aligned with your interests?
As the 20th most-populous state in the U.S., Oklahoma is home to nearly 4 million residents, including one of the nation's largest indigenous populations. Leading the nation in industries like aerospace technology and agribusiness, Oklahoma offers business and finance programs to prepare graduates for adaptable accounting careers.
Students may pursue traditional or online accounting degrees in Oklahoma at any of the state's 67 higher learning institutions. Oklahoma employs more than 14,000 accountants, many at the 12 Fortune 500 companies headquartered in the state's major metro cities. Each of the "Big Four" accounting firms maintains offices in Tulsa or Oklahoma City.
Earning an accounting degree in Oklahoma can lead to jobs in bookkeeping and auditing, payroll, or public accounting. The following guide helps students navigate the path toward an accounting degree in Oklahoma.
Oklahoma at a Glance
Top Online Programs
Explore programs of your interests with the high-quality standards and flexibility you need to take your career to the next level.
Top Oklahoma Schools for Accounting
University of Tulsa
University of Oklahoma-Norman Campus
Oklahoma State University-Main Campus
Oklahoma City University
Southern Nazarene University
Oklahoma Christian University
Oklahoma Baptist University
Northeastern State University
Southeastern Oklahoma State University
Oklahoma Panhandle State University
Why Go to College for Accounting in Oklahoma?
Earning an accounting degree in Oklahoma prepares graduates for careers with companies including the state's 12 Fortune 500 companies and local branches of the "Big Four" firms. Marketing, management, and business, including accounting concentrations and programs, represent some of the most popular majors at the University of Tulsa, the University of Oklahoma, and Oklahoma State University.
The Oklahoma State Regents for Higher Education (OSRHE) recognizes the demand among citizens for flexible career programs. The OSRHE developed the Reach Higher program to assist working adults in finishing their associate degrees through accelerated programs. Graduates qualify to pursue employment in one of Oklahoma's critical industries. Oklahoma also allocates a higher percentage of tax revenue toward higher education than the national average.
Education Statistics for Oklahoma
General appropriations for full-time students in Oklahoma fall below the national average, but the state exceeds the national percentage of tax revenue allocated to higher education. It also enrolls a higher percentage of students in distance education programs (36.9%) than the national average (34.7%).
Oklahoma's degree attainment rates rank below the national average for each degree level, but associate degree-holders — at 7.7% — come closest to meeting the national attainment rate of 8.4%. Among college graduates in Oklahoma overall, the largest percentage (16.7%) earned bachelor's degrees.
Higher Education in Oklahoma
Accreditation for Oklahoma Schools
Students contemplating an online accounting degree in Oklahoma should seek out accredited institutions. Accrediting bodies ensure that a school's curriculum meets standards of academic excellence that provide students with a valuable education. There are two types of accreditation: national and regional. Regional accreditation is reserved for nonprofit institutions, while national accreditation typically applies to for-profit and vocational schools.
Some of the best accounting schools in Oklahoma receive regional accreditation through the Higher Learning Commission. Alternatively, the Council for Higher Education Accreditation and the U.S. Department of Education may approve national accreditation for some schools. Select accounting programs may hold programmatic accreditation through an organization such as the Association to Advance Collegiate Schools of Business.
Considerations for an Accounting Degree in Oklahoma
Students must consider many factors in choosing the right accounting degree in Oklahoma. One component to consider is whether the program is online or on campus. While the percentage of online-only students in Oklahoma is below the national rate, more learners in the state enroll in hybrid study (24.6%) than the national rate of 18.4%.
Other considerations such as available concentrations, cost and financial aid, and degree level impact a student's choice of school. Almost all types of colleges and universities in Oklahoma offer lower tuition rates than the national average, except for public two-year schools, which cost slightly more ($3,876) than the national rate of $3,243.
Accounting Degree Levels
Aspiring accountants generally pursue their degrees at levels aligned with their career goals. Students typically evaluate factors including cost, delivery format, and program length to help them decide which program fits their needs.
The following summarizes the considerations and potential outcomes of accounting degrees in Oklahoma.
Accounting Concentration Options
Many bachelor's and master's in accounting in Oklahoma offer unique concentrations. With bookkeepers, auditors, and accountants among the largest employment groups in the state, targeted concentrations can better prepare Oklahomans for a lucrative accounting career. The table below covers two popular concentrations in Oklahoma.
Explore More Accounting Concentrations
On-Campus Versus Online Program Options
Many of the best accounting schools in Oklahoma offer a variety of online, on-campus, and hybrid learning options. This allows students to find options best suited to their needs.
On-Campus Programs
Some students seek traditional accounting programs, ideal for Oklahoma residents who prefer an in-person college experience. Many students thrive in a learning environment with face-to-face access to instructors and faculty, campus amenities, study groups, and social events. Oklahomans enrolled in campus programs also enjoy in-state tuition rates.
Online Programs
Many online accounting degrees in Oklahoma deliver coursework through weekly synchronous or asynchronous assignments, offering comprehensive technology support and virtual tutoring resources. Online programs differ from traditional programs in that they require stricter self-management. Students often schedule their own learning times and meetings with professors.
Hybrid Programs
Hybrid programs suit students who prefer a combined online and in-person learning experience. To qualify as "hybrid," a program must deliver more than 50% of coursework online, usually accompanied by weekly or monthly sessions on campus. Working students can often attend convenient in-person classes on nights or weekends. These minimal in-person requirements cater to part-time learners and commuters with limited campus access.
Percentage of Students Enrolled in Distance Education
Paying for Your Accounting Degree
Paying for an accounting degree in Oklahoma is a primary concern for many students in the state. Most students fill out the FAFSA, which determines financial aid eligibility, during the application process. In addition to federal aid, the FAFSA can help students find scholarships, grants, fellowships, and loans.
Benefits and drawbacks come with each type of financial aid. Many types of aid, most notably federally sourced — and some private scholarships and grants — award funds based on need. Other scholarships, fellowships, and grants provide aid based on merit, geography, or demographics. These types of aid do not require repayment. Students may consider loans as a last resort, as they do require repayment, often with high interest rates.
Average Cost of College Tuition and Fees in Oklahoma, 2017-2018
In-State Versus Out-of-State Tuition
At most colleges, students pay tuition based on their state of residence. Residents of Oklahoma attending school in the state pay in-state tuition rates, which is typically much less expensive than out-of-state tuition. While they may be assigned out-of-state tuition rates, nonresident students still qualify for a variety of scholarships, grants, and federal financial aid.
Many colleges freeze tuition rates or charge set rates for online programs, providing additional savings to distance learners. Some Oklahoma schools participate in online reciprocity programs through the Southern Regional Education Board (SREB), one of four compacts under the National Council for State Authorization Reciprocity Agreements. SREB facilitates affordable online education for nonresident students at participating Oklahoma schools.
Oklahoma's Cost of Living
Oklahoma boasts the third-lowest cost of living in the U.S., with a cost of living index of 87, below the national average of 100. Housing, groceries, and transportation costs in Oklahoma all come in lower than the national average.
Other School Selection Criteria
While the location of a school offering an accounting degree in Oklahoma is important, choosing the right school requires many other elements. The following list includes some additional factors to consider when narrowing down the best accounting schools in Oklahoma.
Concentrations
Not every school's curriculum is identical. Some schools offer concentrations geared specifically toward a student's desired career.
Program Length
Many schools offer accelerated completion options, especially in online programs, for students who want to finish their degree faster.
Tuition
Cost considerations top the list of concerns of most college-bound students; however, the cost of admission can be offset by financial aid.
Prestige/Reputation
Employers may show favor to graduates with a degree from a prominent, high-profile institution, especially in a competitive field like accounting.
Resources/Career Services
The best accounting schools in Oklahoma serve both traditional and online students through tutoring, counseling, and career resources.
School Size
Some students prefer a more intimate college environment, while others seek the immersive experience of a large university.
Alumni Network
Students can identify a high-quality school by its large, widespread, and active alumni network.
Explore Our Rankings For the Best Accounting Programs at Each Level
Careers for Accounting Graduates in Oklahoma
Accounting degrees in Oklahoma and nationwide can offer graduates a variety of business and finance career opportunities. Generally, accounting professionals enjoy stable employment and high salary potential. Accountants in Oklahoma earn a mean annual wage of more than $74,000, and they work primarily in bookkeeping and auditing, accounting, and financial management.
Each of the nation's "Big 4" accounting firms maintain offices in major metro Oklahoma cities including Tulsa and Oklahoma City. Many graduates of bachelor's and master's in accounting in Oklahoma aspire to positions within a local branch of a "Big 4" firm. Others seek bookkeeping, accounting, or auditing positions in one of the state's 12 Fortune 500 companies.
Select Accounting Careers in Oklahoma



Accountant/Auditor

Accountants and auditors assemble and review financial records. They inspect finances for compliance with tax laws and often help clients prepare and file tax returns. Many public accountants work in specializations such as assurance or risk management. Others work in specific industries like healthcare. Students may also become internal, external, or IT auditors. Entry-level jobs require a bachelor's degree.




Credit Counselor

Credit counselors advise students on how to rebuild their credit scores. They can tailor a credit redemption plan to their client's needs, implementing budgets and debt management plans. Some schools offer credit counseling as a concentration of financial planner programs. Credit counselors typically require a bachelor's degree and must obtain financial planner certification.




Financial Manager

Financial managers direct the financial operations of individuals, businesses, and organizations. They may focus on a particular element of financial management, such as credit, cash, risk, or insurance. Financial managers sometimes advise top executives in senior corporate positions. They may also qualify for roles including controller, treasure, or finance officer. Financial managers require a bachelor's degree and at least five years of experience in finance.



Oklahoma Employment Trends
Projected Job Growth for Accountants
Curious about other accounting jobs? Explore more here
Students who earn an associate, bachelor's, or master's in accounting in Oklahoma can pursue their choice of accounting careers. As shown above, Oklahoma employs the largest numbers of accounting professionals in bookkeeping and auditing, accounting, and financial management.
The higher the degree Oklahoma students graduate with, the higher the earning potential: Accounting careers in Oklahoma that require a bachelor's degree, like tax examiners and collectors and cost estimators, make more than associate degree graduates. Though the salaries for these jobs aera lower than the national mean wage, this difference is balanced by the state's low cost of living.
Candidates with a master's in accounting in Oklahoma qualify for the most lucrative career opportunities. Accountants and auditors represent the second-largest employment in this field in Oklahoma. Financial managers earn the highest salary overall among professionals in this group, at more than $118,000 per year on average.
Oklahoma Requirements for Certified Public Accountants
The process of achieving CPA certification involves a unique set of steps, depending on the state. Accountants must hold CPA certification to file reports with the Securities and Exchange Commission. CPA certification can also improve job prospects in most states.
While each state maintains its own requirements for becoming a CPA, all candidates must pass a comprehensive exam in four sections of accounting: business environment and concepts, auditing and attestation, financial accounting and reporting, and regulation. In addition to completing the CPA exam, requirements in Oklahoma include:
A bachelor's degree with 150 semester hours
Of these, 76 of these hours must be upper-division courses
Thirty hours of accounting-related coursework
Of these, one course must be a class about auditing or assurance focusing on external auditing standards including the Statements on Auditing Standards
Nine hours of upper-division business courses
Residency in Oklahoma
A background check
Resources
Frequently Asked Questions



Is accounting a good career in Oklahoma?

Yes. Oklahoma employs more than 14,000 accountants in careers incorporating finance, business, and management. Oklahoma projects high job growth for accountants between 2018 and 2028.




How much do accountants earn in Oklahoma?

Bookkeepers and auditing clerks with an associate degree can earn nearly $40,000 per year, while master's program graduates may earn as much as $118,020 as financial managers.




What accounting jobs are there in Oklahoma?

Graduates of accounting degrees in Oklahoma at any level can pursue jobs including auditing, credit counseling, cost estimation, and financial management. Accountants with an advanced degree and experience may qualify for senior positions.




Can I get an accounting degree in Oklahoma?

Yes. Oklahoma is home to several nationally renowned state schools offering diverse accounting programs. The best accounting schools in Oklahoma feature unique concentrations and flexible learning formats.




Does Oklahoma have online accounting programs?

Yes. Many students pursuing an associate, bachelor's, or master's in accounting in Oklahoma may choose to complete their degree on campus or online. Schools may offer accelerated schedules and tuition discounts for distance learners.



Oklahoma Accounting and Education Organizations
Kick off your finance career with one of these affordable online accounting degrees. Compare the top programs, crunch the numbers, and get the best value.
A master's in accounting opens the door to in-demand, lucrative careers. Explore our list of the best accounting master's degree programs for 2021.
Bachelor's degrees in accounting can build strong careers. Become an accountant through an accredited, affordable program that leads to CPA certification.
Search top-tier programs curated by your interests.
Let us know what type of degree you're looking into, and we'll find a list of the best programs to get you there.