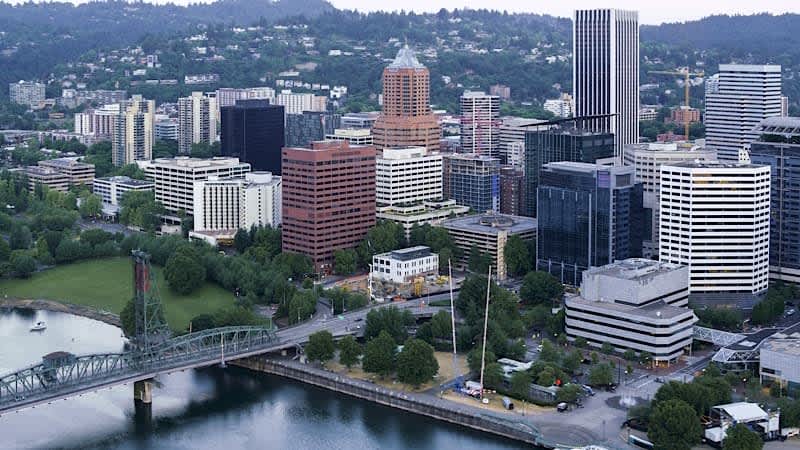 Accounting Degree Overview for Oregon
Are you ready to find a school that's aligned with your interests?
Home to the deepest river gorge and lake in the country, Oregon boasts a varied landscape that many outdoor enthusiasts find compelling. Oregon's natural beauty, rapidly growing population, and booming state economy make it an attractive place to work and attend school.
Accountants, tax preparers, credit counselors, and cost estimators enjoy strong job prospects, according to long-term projections from the Bureau of Labor Statistics (BLS). Job outlooks for financial professions, such as financial manager and personal financial advisor, look particularly promising.
Featured Online Programs
Find a program that meets your affordability, flexibility, and education needs through an accredited, online school.
Oregon hosts several excellent accounting schools, many of which offer online programs. The following guide covers important information for students considering accounting degrees in Oregon, including state economic and career data, educational statistics, and tuition and funding information. Prospective students can also find information on accounting degree types, concentrations, and attendance formats in Oregon.
OREGON AT A GLANCE
Top Oregon Schools for Accounting
WHY GO TO COLLEGE FOR ACCOUNTING IN OREGON?
In-state students at Oregon's four-year public universities pay about a third of what out-of-state students pay, so obtaining residency can save students a lot of money. Through the Western Undergraduate Exchange program, students in other Western states can qualify for in-state tuition rates in Oregon. Meanwhile, some online accounting degrees in Oregon also offer discounted tuition rates, allowing distance learners to affordably attend from other states.
The state's growing economy also makes Oregon an attractive place to live. Ranking third in the nation, Oregon's economy provides many opportunities for accounting graduates. In-demand roles for accounting graduates include accountant, cost estimator, financial manager, and personal financial advisor.
Attending school in the state where you wish to work boosts networking opportunities. Oregon accounting schools and programs often connect students with local peers, industry professionals, and internship opportunities. Internships allow students to increase their hireability by learning from accounting professionals and gaining real-world work experience.
Education Statistics for Oregon
The following table introduces the types of schools and attendance formats available in Oregon. The table also highlights Oregon's average educational attainment, costs, and governmental investment.
HIGHER EDUCATION STATISTICS IN OREGON
Sources: NCES, SHEEO, U.S. Census Bureau – American Community Survey
Accreditation for Oregon Schools
Prospective students should only apply to accredited schools. To earn accreditation, higher education institutions must undergo a voluntary evaluative process by an independent accrediting agency approved by the Council for Higher Education Accreditation. These agencies assess factors like institutional resources, faculty credentials, academic rigor, and student outcomes.
Only enrollees at accredited schools qualify for federal financial aid. Accreditation also affects credit and degree transfers, as most schools only recognize work completed at schools with equivalent or higher accreditation statuses than their own.
Schools may hold regional or national accreditation, with regional accreditation generally considered the more prestigious of the two. The Northwest Commission on Colleges and Universities regionally accredits schools in Oregon.
CONSIDERATIONS FOR AN ACCOUNTING DEGREE IN OREGON
Choosing the right accounting program requires careful research. General factors to consider include school size, price, and reputation. Prospective students with defined career goals and fields of interest can also narrow their search by identifying schools that offer related specializations.
Location and schedule constraints also factor into program choice. Working professionals may benefit from online and/or part-time attendance options that accommodate restricted schedules. In 2018, 32.5% of Oregon students took courses online, according to the National Center for Education Statistics (NCES).
Accounting Degree Levels
Oregon students can study accounting at the associate, bachelor's, master's, and doctoral levels. The following list outlines basic information about these degree levels.
Accounting Concentration Options
Oregon accounting students can choose from concentrations in areas like auditing, financial accounting, management accounting, and forensic accounting. The BLS projects 16.1% job growth for cost estimators and 19.5% for personal financial advisors in Oregon between 2018-2028. Therefore, Oregon students may benefit from pursuing related specializations in cost accounting, managerial accounting, financial planning, or investments.
On-Campus Versus Online Program Options
According to NCES data, 32.5% of Oregon students currently take at least some courses online. The following section outlines the differences among on-campus, online, and hybrid programs.
On-Campus
On-campus students enjoy many opportunities to meet professors and local professionals who can connect them to career opportunities. Schools often maintain partnerships with local organizations that offer internships to accounting students. On-campus programs also typically offer more supervision, structure, and collaboration opportunities than online programs.
Online Programs
Online programs give students the flexibility to balance their studies with personal and professional obligations. Many online programs feature asynchronous formats, which do not require set login times. Online students can attend programs across the country without relocating, expanding the number of programs they can choose from. Online programs also spare students the cost of commuting to campus and may offer lower tuition rates than on-campus programs.
Hybrid Programs
Learners in hybrid programs complete a mix of on-campus and online coursework. Some hybrid programs may only require one or two on-campus sessions, while others require students to attend campus regularly in addition to completing online coursework.
PERCENTAGE OF STUDENTS ENROLLED IN DISTANCE EDUCATION
Source: NCES
Paying for Your Accounting Degree
Prospective accounting students can help offset the cost of their education through financial aid opportunities, such as loans, scholarships, and grants. To qualify for federal financial aid, students must submit the FAFSA. However, only students at accredited schools qualify for federal aid.
Many schools, professional organizations, and private companies also offer financial aid opportunities based on factors like academic merit, field of study, and financial need. The following links include more information on financial aid for accounting students.
AVERAGE COST OF COLLEGE TUITION AND FEES IN OREGON, 2017-2018
Source: NCES
In-State Versus Out-of-State Tuition
Oregon tuition rates vary widely based on the institution, but they tend to land above national averages, as evident in the table above. This disparity proves greatest for out-of-state tuition at private four-year colleges, which averages $8,000 higher annually than the national average.
The Western Interstate Commission for Higher Education features a Western Undergraduate Exchange program that allows students in Western states to enjoy in-state tuition rates in other Western states, including Oregon. The Western Regional Graduate Program also qualifies Western state residents for in-state tuition rates at certain out-of-state graduate programs.
Oregon's Cost of Living
Oregon students should factor living expenses into their education cost calculations and planning, as life in this scenic state can get expensive. According to the World Population Review, Oregon's overall cost index lands at 134.2 — higher than the national average of 100. Oregon's housing proves especially costly, at an index of 181.8. However, Oregon's costs vary by county. Living in Portland or near the coast usually costs considerably more than living in western Oregon.
Other School Selection Criteria
Prospective students should consider factors like a school's size, career services, and reputation to determine the right program for their needs. Larger schools often provide more robust career support, alumni networks, and extracurricular options than smaller schools. However, smaller schools tend to offer more individualized attention from faculty.
Accounting programs also vary in length, and some schools offer several pacing options. Traditional full-time associate degree and master's degree programs take about two years to complete, while bachelor's and doctoral programs often take around four years. However, accelerated programs that feature shorter, intensive terms throughout the year allow students to graduate faster. Meanwhile, part-time attendees balancing work and school may take longer to finish.
Additional factors to consider include student-to-teacher ratios, teacher credentials, and student outcome data. Some schools and programs post student outcome data, such as graduation rates and post-graduation salaries, on their websites.
EXPLORE OUR RANKINGS FOR THE BEST ACCOUNTING PROGRAMS AT EACH LEVEL
CAREERS FOR ACCOUNTING GRADUATES IN OREGON
Accountants and auditors enjoy steady job growth projections and above-average salaries across the nation, including in Oregon. Many Oregon accounting graduates work for accounting's biggest firms, many of which maintain a presence in the state.
Oregon's economy ranks fifth in the nation overall and second for economic growth. The state boasts several leading industries, including natural resources, manufacturing, services, and technology. Accounting graduates with experience and interest in these industries may particularly prosper in the Portland area, which offers many job opportunities.
Oregon offers many lucrative and growing careers including and beyond public accounting. For example, the BLS projects particularly high job growth rates for personal financial advisors and cost estimators. See below for descriptions of some popular and profitable accounting careers in Oregon.
Select Accounting Careers in Oregon



Cost Estimators

These professionals gather data and estimate the cost of labor, materials, time, and other resources required to complete projects or create products. Usually specializing in a specific industry, such as construction or manufacturing, cost estimators need skills in collaboration, analysis, and record-keeping. Cost estimators typically hold a bachelor's degree in a business-related field.

Job Outlook in Oregon: 16.1% growth in Oregon between 2018 and 2028.
Learn More




Personal Financial Advisors

Clients consult these advisors for help with their financial goals, plans, and decisions. Sometimes employed as wealth managers or private bankers, personal financial advisors research, explain, and guide investments. Typically holding at least a bachelor's degree, a financial advisor may specialize in areas such as retirement, mortgages, or investing.

Job Outlook in Oregon: 19.5% growth in Oregon between 2018 and 2028.
Learn More




Payroll Clerks

Tasked with gathering, computing, and recording employee hours and pay, these clerks calculate amounts for paychecks, deductions, commissions, and production. Payroll clerks usually need an associate degree in accounting or a related field.

Job Outlook in Oregon: 1.4% growth in Oregon between 2018 and 2028.
Learn More



Oregon Employment Trends
Students who earn accounting degrees in Oregon enjoy many career opportunities. The data in the table above suggests that bookkeeping and auditing clerks, accountants, and financial managers occupy the bulk of accounting-related jobs in Oregon. Oregon also employs over 2,000 payroll clerks and over 3,000 cost estimators.
Graduates with an associate degree may seek work as bookkeeping clerks, auditing clerks, or payroll clerks, while bachelor's graduates qualify for cost estimator or tax examiner jobs. Graduate degree-holders may join the ranks of Oregon's over 2,000 personal financial advisors and over 8,000 financial managers.
Although the data above indicates that accountants in Oregon earn less than the annual mean salary, this is largely because major financial hubs, such as New York City and Washington, D.C., feature accounting positions that pay much higher than average, skewing the data. In reality, accountants in Oregon earn more than accountants in most other states.
Oregon Requirements for Certified Public Accountants
CPA requirements vary by state, so aspiring CPAs should familiarize themselves with the requirements in the state where they plan to practice. Oregon's State Board of Accountancy requires CPAs to meet the following requirements:
RESOURCES
Frequently Asked Questions



Is accounting a good career in Oregon?

Students who earn accounting degrees in Oregon can pursue lucrative, in-demand careers in this state. The BLS projects above-average job growth rates for accountants and auditors in Oregon between 2018-2028.




How much do accountants earn in Oregon?

Oregon accountants and auditors make a mean annual salary of $73,180, according to BLS data. Some accounting graduates make even more money in jobs such as personal financial advisor or financial manager.




What accounting jobs are there in Oregon?

More than 12,000 accountants and auditors currently work in Oregon. Other in-demand roles include cost estimator, financial manager, and personal financial advisor.




Can I get an accounting degree in Oregon?

Many Oregon universities offer associate, bachelor's, master's, and doctoral degrees in accounting. The list of accounting schools below illustrates the schools and degree options available.




Does Oregon have online accounting programs?

Many Oregon schools offer online accounting degree programs, which give students the flexibility to balance their studies with personal and professional obligations.



Oregon Accounting and Education Organizations
Kick off your finance career with one of these affordable online accounting degrees. Compare the top programs, crunch the numbers, and get the best value.
A master's in accounting opens the door to in-demand, lucrative careers. Explore our list of the best accounting master's degree programs for 2021.
Bachelor's degrees in accounting can build strong careers. Become an accountant through an accredited, affordable program that leads to CPA certification.
Search top-tier programs curated by your interests.
Let us know what type of degree you're looking into, and we'll find a list of the best programs to get you there.