Credit: kate_sept2004 / Getty Images
Black accountants face many inequalities in the United States. According to a 2019 report by the Association of International Certified Public Accountants (AICPA) only 2% of certified public accountants (CPAs) identify as Black. By contrast, 84% of CPAs identify as white. These rates represent broader disparities that have caused wage inequalities and participation barriers.
This page details the challenges that hinder Black accountants and offers strategies to increase representation in the field.
Tracing the Historical Inequality
In 1921, John W. Crowell, Jr. became the first Black CPA and practiced in his own firm in Washington, D.C. Yet, the history of the accounting profession reveals a trail of barriers that continue to hinder Black accountants. Based on findings from the Journal of Accountancy, less than 0.15% of American CPAs identified as Black before 1969.
The accounting field suffers from ingrained stereotypes, assumptions, and discriminatory practices that limit opportunities for Black accountants. Conscious and unconscious biases by many accounting leaders with corporate power preserve these inequalities. Apprenticeship requirements have worsened matters. While the model was meant to ensure accounting competence, the requirements created more barriers that disproportionately impacted Black Americans.
Fifty years ago, mentorships and apprenticeships were inaccessible to Black accountants due to networks that openly excluded people of color. This history of exclusion has created systemic barriers that exist today.
According to a 2018 report by the Center for American Progress, Black apprentices earned $14.35 per hour in 2017, while their white colleagues earned $26.14 per hour.
The Importance of Representation in Accounting
Increasing the number of Black accountants corrects systemic disparities and empowers workers of color who enter the profession. More representation also increases access to financial stability and upward mobility for Black accountants.
However, the disproportionately low representation of Black professionals in accounting discourages more Black Americans from pursuing the career path, and many leave the profession.
Fortunately, progressive companies who recognize the necessity of diversity and inclusion have implemented hiring initiatives that attract, retain, and support Black accountants.
Ernst & Young (EY), Deloitte, KPMG, and PWC apply targeted recruitment efforts, maintain mentorship programs, and sponsor opportunities to support Black talent. These companies spread awareness of inequalities in accounting and offer programs that promote psychological safety and acceptance within their workplaces.
When companies embrace diversity, they foster a fair society and gain a competitive edge. Deloitte's Global Human Capital Trends reveal that 78% of professionals consider diversity and inclusion as a competitive advantage. Additionally, in 2021, Deloitte invested $75 million in a program to increase the number of Black and Latino/a accountants by 50% by the year 2025. A McKinsey & Company report confirmed that the most diverse companies see the most profitability. Diversifying accounting introduces unique experiences and perspectives to the field, creating environments that foster innovation and critical thinking. Many of these companies also partner with HBCU accounting programs to provide internships and career opportunities.
By challenging the status quo, companies can diversify their workforces and move industries forward. The field of accounting can benefit from a variety of voices, and ensuring anyone can become an accountant is a long-term investment in the sector.
Empowering Future Black Accountants: Strategies for Success
Empowering future Black accountants requires a multilayered approach rooted in strategies that foster psychological safety, belonging, and mentorship.
Remember that Black Americans are not a monolith, and include neurodivergent, queer, disabled, and trans people. Each person will have unique needs, strengths, and weaknesses.
Mentorship and support will look different for everyone. There are, however, strategies for navigating the path toward success as a Black accountant.
Cultivate Strong Mentorship Relationships
Mentorship is a vital part of professional advancement in accounting. The Journal of Accountancy reported that 67% of African American accountants benefitted from mentorship in 2017, a 15-point increase from 2006.
Good mentors help newer accountants navigate challenges in the field. Mentors can even serve as professional advocates, helping you access opportunities you weren't previously aware of.
You can use LinkedIn and other job sites to connect with experienced accountants whose professional and cultural backgrounds interest you.
Build a Supportive Network
A supportive professional network can serve as a lifeline for Black accountants. Referrals increase your chances of finding a job, especially in a difficult job market. In 2016, employers hired over 30% of new employees through referrals, according to SHRM.
Supportive professional networks also provide access to resources and opportunities for professional development, further learning, and even collaboration. Good accounting colleagues can help you navigate and succeed in the field.
Advocate for Representation and Inclusion
You don't have to wait for the field to become inclusive. Increasing representation and inclusion requires active advocacy. Everyone can play a role, no matter how "voiceless" they may feel.
This includes you.
You can encourage conversations around diversity, equity, inclusion, and belonging within your organizations and across the industry. From writing online to public speaking, there are plenty of ways to raise awareness. You might even start an employee resource group (ERG).
Insights From a Black Accountant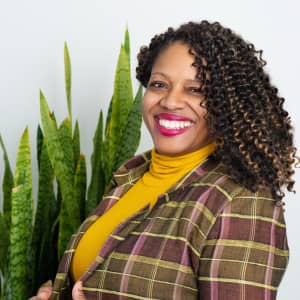 Kirsha Campbell, CPA, CMA
Kirsha Campbell is a CPA/CMA specializing in helping businesses overcome financial challenges and achieve sustainable growth. Focusing on recession-proofing, risk reduction, and increased cash flow, Kirsha's expertise lies in setting up solid business foundations. Recognized for her attention to detail, integrity, and dedication, Kirsha is passionate about turning businesses around.
We spoke with Kirsha Campbell, a distinguished CPA and CMA who stands out as a highly accomplished Black woman in the accounting world. Her insights provide a necessary lens into understanding the underrepresentation of Black professionals in accounting and offer a path toward a more inclusive industry.
The interview has been edited for length and clarity.
Can you share your personal experiences as a Black accountant in the industry? What challenges have you faced, and how have you overcome them?
As a Black accountant, my experiences are varied. I have experienced great times where I have been commended for my experiences and qualifications, work done, thought leadership, and the value I bring to those I serve. I have [also] had very low times where my accent has been "belittled" or the quality of my knowledge has been questioned. I overcame these various challenges after crying, feeling sad … by looking at my potential and past successes. I reminded myself that I do add great value and am committed to quality and continuous improvement. This [has] propelled me to keep seeking higher levels and standards for myself.
Why is it important to increase the representation of Black CPAs in the accounting profession? How can increased diversity benefit the industry as a whole?
As humans, we often feel more comfortable with those who can relate to our experiences, culture, traditions, and history. Often, this is not understood by those outside our culture as Black individuals. There is a growth in black entrepreneurs, business owners, and CEOs who need that integral support to sustain and grow successful businesses [that] impact our current world and generations to come. Increased diversity will lead to increased quality talent in the industry, and more people will see the impact of CPAs worldwide on their businesses.
Have you personally experienced or witnessed microaggressions in the accounting profession? How do these microaggressions impact Black accountants' experiences and career progression?
Yes, as a Black immigrant woman, I have with my accent. These [types of] microaggressions will either influence people to leave the accounting industry or be committed to staying and changing the narrative and trajectory.
What steps should be taken to increase the diversity and representation of Black CPAs? How can organizations and institutions work towards fostering an inclusive and equitable accounting profession?
A key step is to look beyond the color of someone's skin and beyond the stereotypes or trends related to Black CPAs. Look deeper at qualifications, experiences, attitudes, work ethic, and integrity.
Organizations should ensure key values and strategies that state clearly on paper: "Inclusiveness and equitable practices are actually practiced [here]." HR needs to be the gatekeeper to ensure this is done. All these steps should in no form compromise the standards of an organization or institution.
How do you see the future of the accounting profession evolving in terms of diversity and inclusion? What changes do you hope to see in the coming years?
I see more adopting the challenge and mandate to enhance diversity and inclusion. Unfortunately, I also see a lot of exclusion that will continue. With the growth in Black businesses, I also see more CPAs will be needed despite the thrust toward AI.
I hope to see more cultures being inclusive as well. Most of those I have served over the years are non-Black, which shows that in the midst of exclusion, there is inclusion!
Resources
ABWA provides a mentorship program, a networking forum for members, scholarships, and other resources that empower and support Black women accountants.
A leader in advancing diversity in corporate America, INROADS closes wealth gaps by supporting underrepresented youth from high school to college and throughout their careers.
NSBCPA aims to increase the number of Black CPAs while promoting cultural competence, diversity, and inclusion in accounting.
NABA's advocacy increases the representation of Black accountants within the profession. Resources include mentorship, networking events, and scholarship programs tailored to Black accounting professionals
Search top-tier programs curated by your interests.
Let us know what type of degree you're looking into, and we'll find a list of the best programs to get you there.