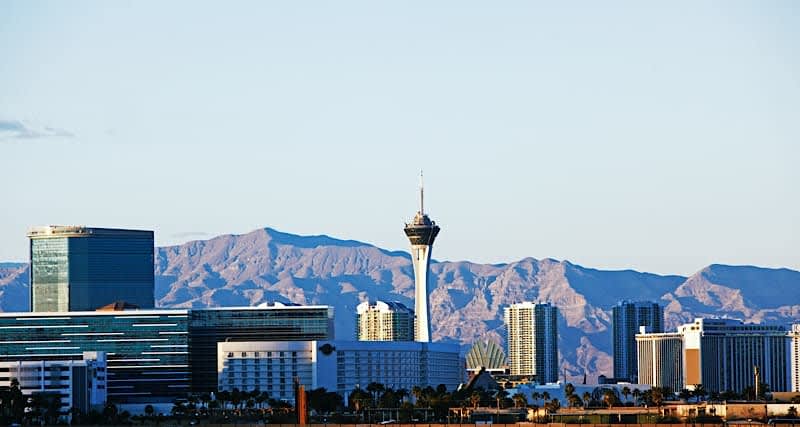 Accounting Degree Overview for Nevada
Are you ready to find a school that's aligned with your interests?
Nevada offers a prime location with a much lower cost of living than nearby California. Projections show a steady increase in the state's population between 2020-2030. A growing population requires skilled laborers, including those that practice accounting.
Accountants in Nevada enjoy strong salaries and job growth projections. According to the Bureau of Labor Statistics (BLS), 8,140 accountants and auditors work in Nevada. They earn a mean annual wage of $68,030. The BLS reports even more accounting clerk positions, with 11,320 bookkeeping, accounting, and auditing clerks.
Featured Online Programs
Find a program that meets your affordability, flexibility, and education needs through an accredited, online school.
This guide covers important information for students considering accounting degrees in Nevada, including types of degrees, potential schools, and career and salary data for graduates.
NEVADA AT A GLANCE
Top Nevada Schools for Accounting
University of Nevada-Reno
University of Nevada-Las Vegas
Great Basin College
Truckee Meadows Community College
Western Nevada College
WHY GO TO COLLEGE FOR ACCOUNTING IN NEVADA?
In 2014, nearly 64,500 students studied at an institution of higher education in Nevada. That same year, Nevada reported a graduation rate of 45%, which is lower than the national average of 57.7% but higher than similarly populous states, like Arkansas and Utah.
The state hosts seven higher education institutions. Most students enroll in Nevada's three largest state schools: the College of Southern Nevada, the University of Nevada Reno, and the University of Nevada Las Vegas.
In-state residents who attend these schools may qualify for Nevada's Millennium Scholarship, a state program created to make higher education more affordable. According to the College Board, Nevada ranks as the seventh-most affordable state for in-state tuition and fees. The Millennium Scholarship pushes these costs even lower.
Education Statistics for Nevada
A large, sparsely populated state, Nevada offers few two- and four-year colleges. However, the state does host a large portion of distance learners, with nearly 40% of all students studying at least partially online. Additionally, Nevada's higher education comes at a lower per-student cost than the national average.
HIGHER EDUCATION STATISTICS IN NEVADA
Accreditation for Nevada Schools
When researching different schools and accounting programs, students should always consider accreditation. Accreditation means a school or program officially meets standards created by an accrediting body.
Colleges and universities can receive either national or regional accreditation. While both demonstrate academic quality, regional accreditation supersedes national accreditation. In some instances, employers and graduate schools do not accept applicants from a nationally accredited school. In Nevada, schools receive regional accreditation from the Northwest Commission on Colleges and Universities.
Some accounting programs, particularly those at the graduate level, also receive programmatic accreditation. The top accrediting institution for accounting programs is the Association to Advance Collegiate Schools of Businesses.
CONSIDERATIONS FOR AN ACCOUNTING DEGREE IN NEVADA
When considering an accounting degree in Nevada, students should consider factors like tuition rates, program outcomes, graduation rates, concentrations, and delivery format. The following section breaks down these and other factors in detail.
Accounting Degree Levels
Learners interested in accounting must decide what level of education they need to reach their vocational goals. The main levels of accounting degrees include:
Accounting Concentration Options
Concentrations help graduates learn important skills for specific industries and prepare students to continue their education. Accounting concentrations vary by school, but the following concentrations are common among accounting programs.
INFORMATION SYSTEMS: An information systems concentration blends accounting with tech, teaching students important financial software and industry skills. This concentration prepares graduates to work in areas like cost accounting, fraud investigation, and internal auditing.
INTERNATIONAL TAX: International tax concentrations examine taxation laws surrounding businesses with an international presence. Typically offered at the master's level, students concentrating in international tax often pursue positions in tax consulting, accounting management, and compliance.
On-Campus Versus Online Program Options
With nearly 40% of students in Nevada studying at least partially online, accounting students in the state enjoy numerous choices when considering program delivery. The following list outlines the three main types of program delivery formats.
On-Campus
An on-campus degree provides students with a traditional education. On-campus students commute to and from class, attend live lectures, and enjoy the benefits of living on or near a vibrant college campus. Students interested in a traditional college experience should consider studying on campus.
Online Programs
Online programs allow students to complete the entirety of their coursework remotely. Online students avoid commuting to classes, and many schools let online students complete their courses asynchronously, meaning they do not need to login at specific times. Along with added flexibility, many schools also charge lower tuition rates to online students. Students with work or busy personal lives might benefit most from an online program.
Hybrid Programs
Hybrid programs combine both on-campus and online learning components. Some hybrid programs only require one or two campus visits, while others require weekly or monthly visits to campus.
PERCENTAGE OF STUDENTS ENROLLED IN DISTANCE EDUCATION
Paying for Your Accounting Degree
Cost is often a critical factor when considering educational goals. Fortunately, Nevada ranks among the most affordable states in the nation for earning a degree. The average costs for an in-state, out-of-state, and private four-year degrees in the state all rank lower than the national average.
AVERAGE COST OF COLLEGE TUITION AND FEES IN NEVADA, 2017-2018
In-State Versus Out-of-State Tuition
Residents of Nevada gain access to in-state tuition at all public colleges and universities. In-state tuition costs much less than out-of-state tuition, with the College Board estimating that out-of-state students pay nearly three times as much as in-state students.
Fortunately, many out-of-state students can receive a reduced tuition rate. The Western Undergraduate Exchange (WUE), offered through the Western Interstate Commission for Higher Education (WICHE), extends a tuition discount to students from California, Alaska, Hawaii, Oregon, Washington, Montana, Idaho, Wyoming, Colorado, Utah, Arizona, New Mexico, North Dakota, South Dakota, and the Northern Mariana Islands. As a member of WICHE, Nevada residents also gain access to WUE.
Nevada's Cost of Living
When considering the cost of education, students should research Nevada's cost of living, including housing, utility, grocery, and transportation costs. According to the World Population Review, Nevada scores 108.5 on the cost index, indicating that the cost of living in Nevada ranks slightly higher than the national average. However, cost of living also varies by area within Nevada.
Other School Selection Criteria
Program concentrations, cost, and format should play a critical role in determining the best school for your needs. In addition to those factors, other school selection criteria include:
School Size
Large schools usually come with larger class sizes. Students interested in regularly engaging with their professors may prefer a smaller school, with smaller class sizes. However, larger schools may feature more program and concentration options.
Staff Credentials
Spend time researching staff, especially those involved in the accounting department. Faculty with strong credentials are typically well-equipped to adequately prepare students for the workforce.
Program Length
Some programs follow a traditional schedule, while others offer accelerated or part-time options, which may shorten or lengthen the time to completion, respectively.
University Resources
Universities typically extend resources, such as tutoring, writing services, and career workshops, to all students. Some universities may go above and beyond, offering special counseling, one-on-one meetings with staff, and guest speakers.
Admission Requirements
Prestigious institutions often set strict admission requirements. If applicants do not meet the minimum admission requirements for an institution, they should consider saving time and money by not applying.
EXPLORE OUR RANKINGS FOR THE BEST ACCOUNTING PROGRAMS AT EACH LEVEL
CAREERS FOR ACCOUNTING GRADUATES IN NEVADA
Nevada hosts major accounting firms and agencies, and accountants in Nevada find employment in various industries. For example, the gaming industry, one of the largest industries in Nevada, requires skilled accountants.
According to the BLS, the Reno and Las Vegas-Henderson areas host nearly 95% of all accountants in Nevada. Prospective accountants can anticipate finding a position in one of those two areas.
Select Accounting Careers in Nevada



CPA

CPAs perform various accounting duties, including preparing financial documents, analyzing records, and preparing tax documents for clients. A CPA usually works for an accounting firm, though some work directly for a business or independently through a private practice. Nevada's growing number of professionals require skilled accountants.

Job Outlook in Nevada: +23.6% (2016-26)




Financial Analyst

Financial analysts review financial statements to determine whether current practices align with long-term strategies and goals. These professionals also create financial models, with considerations for both the short and long term.

Job Outlook in Nevada: +21.9% (2016-26)




Cost Accountant

Like public accountants, cost accountants review and manage financial statements, but they emphasize expenditures, operating costs, and adherence to budgets. A cost accountant's daily tasks vary depending on the business, though many work with other accountants and finance professionals to analyze statements.

Job Outlook in Nevada: +23.6% (2016-26)



Nevada Employment Trends
Bookkeeping and auditing clerks enjoy the highest levels of employment among all accounting professionals in Nevada, although these professionals earn a slightly lower annual wage than the national average. In fact, according to the BLS, only three accounting professions in Nevada enjoy a higher mean wage than the national average: credit counselors, cost estimators, and personal financial advisors.
Credit counselors earn a mean annual wage of $57,940 and require less education than most other accounting positions. However, only 100 credit counselors work in Nevada, making it a highly competitive field.
Those willing to earn a graduate-level accounting degree should consider becoming a personal finance advisor. These professionals earn a mean annual wage over $20,000 higher than the national average
Nevada Requirements for Certified Public Accountants
Many accountants become CPAs to increase their potential wages and employability. CPA requirements vary by state, so prospective CPAs should research the requirements in the state where they plan to practice. The following list outlines the CPA requirements in Nevada.
To become CPA eligible in Nevada, accountants must:
Complete a 120-credit-hour accounting degree OR a bachelor's degree with at least 21 semester credits in accounting.
Earn an additional 30 post-bachelor's semester hours in accounting, such as a master's degree in accounting.
Participate in an international examination program.
Complete two years of full-time employment with a public accounting firm OR complete four years of full-time employment in a government public accounting position.
Pass the CPA exam within the past three years.
Submit Social Security number and information to Nevada.
RESOURCES
Frequently Asked Questions



Is accounting a good career in Nevada?


Yes, students can complete their accounting degree either entirely online or in a hybrid format in Nevada. However, some schools do not offer any type of online option.





How much do accountants earn in Nevada?


The BLS reports that accountants and auditors in Nevada earn an annual mean wage of $68,030. The Reno area pays an annual mean wage of $69,680, the highest rate of any area in Nevada.





What accounting jobs are there in Nevada?

Bookkeeping, accounting, and auditing clerks make up the largest portion of accountants in Nevada, followed closely by accountants and auditors. Specific accounting careers in Nevada include CPA,

tax attorney

, and IRS agent.




Can I get an accounting degree in Nevada?


Students in Nevada can earn an associate, bachelor's, master's, and Ph.D. in accounting. Some schools only offer some of these options, so students should pick a school based on their desired education level.





Does Nevada have online accounting programs?


Yes, students can complete their accounting degree either entirely online or in a hybrid format in Nevada. However, some schools do not offer any type of online option.




Nevada Accounting and Education Organizations
Kick off your finance career with one of these affordable online accounting degrees. Compare the top programs, crunch the numbers, and get the best value.
A master's in accounting opens the door to in-demand, lucrative careers. Explore our list of the best accounting master's degree programs for 2021.
Bachelor's degrees in accounting can build strong careers. Become an accountant through an accredited, affordable program that leads to CPA certification.
Search top-tier programs curated by your interests.
Let us know what type of degree you're looking into, and we'll find a list of the best programs to get you there.